Vol.13, Nº.2 (November 2022-April 2023)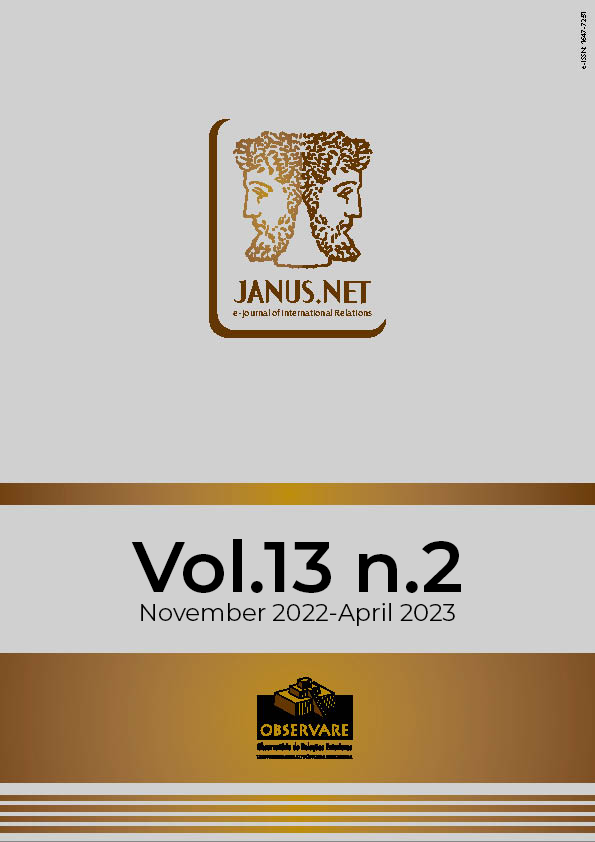 Volume 13, Number 2 (November 2022-April 2023) contains fifteen articles and three notes, highlighting the thematic, regional and methodological diversity of the papers submitted, accepted and now published: articles of a theoretical nature, but also with case analysis and development of new concepts. From a regional point of view, all continents require attention from different perspectives: political and economic instability, diplomatic protection, the war in Ukraine, regional relations, economic growth, corruption, tourism, art and even vaccines in a pandemic context. A very appealing issue due to the diversity of themes and cases covered.
Notes and Reflections
EDUARDO PIMENTEL DE FARIAS
JOSÉ NORONHA RODRIGUES
SUMANTA BHATTACHARYA
DORA CRISTINA RIBEIRO CABETE
A Direcção Editorial do JANUS.NET, e-journal of international relations, e os autores agradecem aos revisores científicos que apreciaram os artigos submetidos.