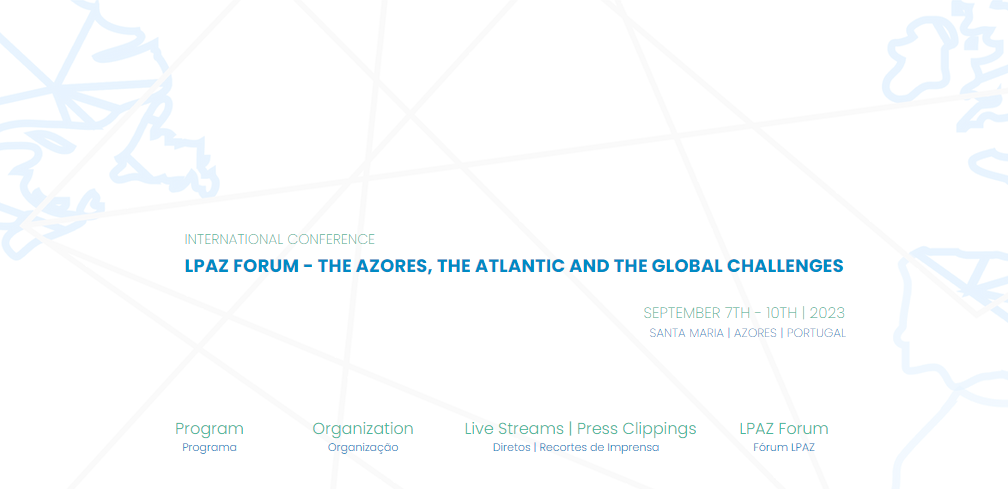 We are pleased to announce that the call for papers for the 4th LPAZ Forum is open.
The fourth edition of the LPAZ Forum, will take place from 7 to 10 of September and will be dedicated to the theme of "The Azores, the Atlantic and the Global Challenges".
Individual paper proposals should be submitted to forumlpaz@gmail.com until March 31st. The proposals should ideally focus on one of the conference topics:
The Azores and Atlantic geopolitics;
Atlantic Kinetics: transport, communications and connectivity;
Aviation – the impact on time and space [in memory of Alan Dobson];
Atlantic diasporas;
Environment and climate change;
Atlantic Literature;
History of Science in the Atlantic;
Island Studies, Island narratives;
Atlantic Politics, State, Autonomy and Integration.
This year's conference, titled "The Azores, the Atlantic, and the Global Challenges," is being organized by the LPAZ Association in collaboration with the Atlantic Centre, the Center for International Studies of Iscte-Instituto Universitário de Lisboa (CEI-Iscte), the Center for Humanistic Studies of the University of the Azores (CEHu), and the Transatlantic Studies Association. The conference will bring together researchers from different backgrounds with a view of debating the past, present and future role of the Azores and the Atlantic in addressing the global challenges of our time.
For more information, please see the attached call for papers or visit the LPAZ Forum website.